Our Staff
Beth Winke, M.D.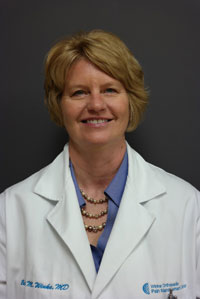 Beth Winke, M.D., a physiatrist, is board certified in physical medicine and rehabilitation as well as a sub-specialty board certification in pain management.
Dr. Winke earned her medical degree at the University of Iowa College of Medicine. After residency training in orthopedic surgery at Louisiana State University Medical Center she continued her postgraduate training in Physical Medicine and Rehabilitation at Eastern Virginia Graduate School of Medicine, where she was named Chief Resident.
In practice in Hampton Roads since 1998, she serves as an Assistant Professor, Community Faculty Department of Physical Medicine and Rehabilitation, Eastern Virginia Medical College. Winke previously served as the Medical Director of the Pain Management Services at Maryview Medical Center.
Dr. Winke brings a wide spectrum of treatment expertise to patients with specialized training in epidural injection, as well as certification in complementary techniques including acupuncture.
In her free time she enjoys spending time with family, outdoor activities, and staying fit.
J. Barry Sanderlin, M.D.
Accepting Appointments for Dr. Sanderlin's  arrival to Winke Orthopedic Pain Management in May of 2017.
Dr. J. Barry Sanderlin is a non-surgical and interventional spine specialist who is board certified in Physical Medicine and Rehabilitation and certified by the American Board of Pain Medicine.  He attended James Madison University where he graduated Magna Cum Laude with a degree in Biology.  His medical school training was completed at Virginia Commonwealth University School of Medicine, where he also completed his internship in Internal Medicine as well as his residency in Physical Medicine and Rehabilitation.
He furthered his training with a fellowship in interventional spine care at Virginia Interventional Spine Physicians.  During his fellowship he gained experience in a vast array of spine related conditions and cutting edge therapeutic procedures. He served as a blind investigator in clinical trials involving intradiscal stem cell therapies as well as basivertebral nerve radiofrequency ablation.
Before joining Winke Orthopedic Pain Management Center, he spent 3 years practicing pain management for EmergeOrtho in Hickory, North Carolina.  Dr. Sanderlin is very excited to return to his native home of Virginia to continue providing care for those in need.
Dr. Sanderlin offers treatments including cervical, thoracic, and lumbar epidural steroid injections, medial branch and peripheral joint radiofrequency ablation, peripheral joint injections, and spinal cord stimulator trials.
When away from the office, he enjoys spending time with his wife Kate and his dog Charlie.  His hobbies include golf, running, and going to concerts.
Evan E. Mintz, PA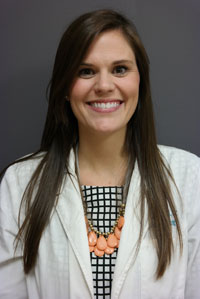 Evan grew up in Northern Virginia/DC area. She graduated from Virginia Tech in 2008 with Bachelor of Science in Human Nutrition, Foods and Exercise. She received Masters of Physician Assistant degree from Eastern Virginia Medical School in 2012. While at EVMS she was inducted into Pi Alpha Honor Society and received The Eugene Stead, Jr., MD Award recipient, an honor awarded to graduating Physician Assistant student who best exemplifies the profession's ideals of courage, humility and wisdom when applying technical skills, scientific knowledge and human understanding to the care of the suffering.
Evan started at Winke in 2012. She is qualified to evaluate and treat new injuries and manage chronic pain and is trained and licensed to perform multiple types of injections.
In her free time, Evan enjoys spending free time with her husband, family, dog and cat. She also enjoys spending time outdoors, on the water, cooking, and going to sporting events especially Virginia Tech football games.
Kiersten R. Mills, PA
Kiersten is a Tidewater native. She graduated fourth in her class from Western Branch High School in 2006 which allowed her to attend her lifelong dream college, The University of Virginia. GO HOOS!! After graduating in 2010 with a Bachelor's degree in Biology, Kiersten continued her education at South University in Savannah, Georgia. She graduated in 2013 with a Master's degree in Physician Assistant Studies. During her college career, Kiersten was able to volunteer with the surgical unit at the University of Virginia Hospital, Ronald McDonald House, local homeless shelters, and soup kitchens. She was inducted into the National Society of Collegiate Scholars, the Pre-Medical Honor Society, as well as being selected an ambassador of South University, which allowed her to be involved in the admissions process of the incoming physician assistant class. When not cheering for UVA sports, Kiersten enjoys going to the beach, gardening, being outdoors, playing with her dogs, traveling, cooking, and watching the Food Network. Her contagious smile and cheerful attitude are exactly what our patients need. She is able to fully examine and treat patients with acute and chronic pain and is experienced with multiple types of injections. She has been with Winke Orthopedic Pain Management since July 2013.
Thomas Lashawn Barnes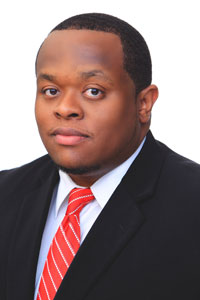 Coming Soon!!